100% Satisfaction Guarantee
We understand that choosing the perfect item is a big decision and we want our customers to be completely satisfied with their purchases. We are happy to offer our customers a full refund if you dont love your item.
Our journey began in 1982 from our love of all things Antique and Vintage with our very first store
Now a Mother & Daughter business, we personally select all of our items from the US, UK and Europe so we can be assured you will love them as much as we do.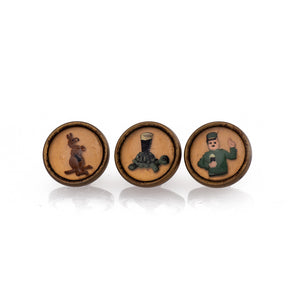 Vintage Irish Guinness Button Set
Regular price
$125.00
Unit price
per
Tax included.
Shipping
calculated at checkout.
Full details →
---
Share this Product
Vintage Geometric Cuff Bangle
This original Vintage black and white Resin Cuff Bangle in a geometric Art Deco style will add fun any outfit! In great condition and a lovely shape which hugs the wrist and is comfortable to wear.
VINTAGE CUFF BANGLE - MORE INFORMATION